Community Reflections & Insights – 2019
Through On the Table, we've created a catalyst and platform that encourages people to connect more meaningfully to one another. It is exciting and inspiring to see such as diversity of ages, sectors and topics of conversation emerge across the province. Check out our latest report to learn more.

Community Reflections & Insights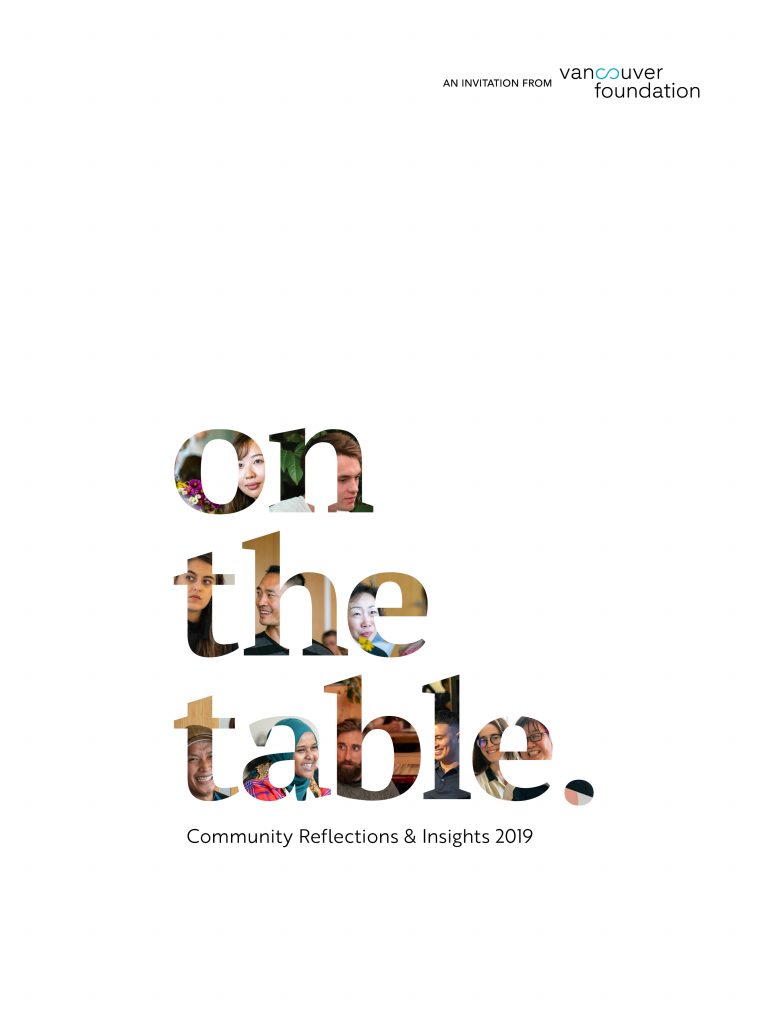 You can also see the results from 2018, the first year of On the Table BC.
Read the 2018 Report
Explore the Conversations
1. Community Engagement & Participation (25%)
Better-connected Neighbourhoods
"Love where you live," Steveston edition
A flourishing neighbourhood
Age-friendly communities
Being neighbourly
Building community (x7)
Building community in our community
Co-operation
Community building in small towns
Community care
Community chats
Community connections (x3)
Community for all
Community inclusion
Community involvement
Community participation
Community resilience
Community visioning
Community
Community activities
Creating a caring Dunbar
Enjoying neighbourhood connections
How can we build a better community
How to create a safe and welcoming community
Let's connect
Let's talk community
Meeting the neighbours (x2)
Neighbourhood association
Neighbourly chats on Forest Hills Drive
Nova Scotianers
Socially engaging minority communities
How VR builds community
Encouraging volunteerism (x2)
CPAWS
Life in Vancouver
Macbeth neighbourhood block watch
Making Vancouver fun
Micro communities
Politics
UN Convention on the Rights of PWD
Shared economy (library of things)
What's good in the hood?
What service means to me
What's your favourite place in town and why?
Who lives in our hood?
Will you be my neighbour?
2. Inclusion & Belonging (15%)
A more equitable society
Breaking the isolation
Building inclusive community
Building more inclusive cities
Belonging: what it means to each of us
Belonging to the community
Club 50+: supporting older women finding work
Diversity in our community
Gender equality (x3)
Fat-friendly spaces
Friends of the Similkameen
Friendship
Friendship as we age
From around the world
Helping new Amica residents feel welcome
Home is where the heart is
Immigration
Inclusivity and personal well-being
Interracial collaboration
Interracial relationships
Migration stories
Navigating life in our 30s
Potluck, People, and PRIDE
Reconnecting
Senior's issues
Social acceptance
Social isolation and resiliency
What is home?
3. Wellbeing & Vitality (12%)
Autism and friendships
Being with change
Brain injury in our community
Connecting
Connection
Conversation
Conversation
Conversations about community
Conversations with neighbours
Coming home:what does it mean to you?
Creating a sisterhood circle
Domestic violence NPD abuse survivors
Dying well
Gut feelings: how our guts affect us
Joy and responsibility
Life in the balance
Living
Menopause
Mental health
Mental health week launch
Self care: finding love and joy
Things that help us thrive
What brings you joy
The labour of love
Autumn hikes
Let's chat about the next chapter
Expanding horizons
Food, sport, daily life in Vancouver
4. Learning & Storytelling (8%)
Doing battle with overabundance
Family Traditions x 2
Following Jesus
FSJ northern learning cohort
High school angst
How do we get ABA in schools?
Learning
Patients in education
Sharing stories of our home waters
Storytelling & oral heritage
Storytelling and burnout
Support university students initiatives
Underlying connections
Talent management
Job Search
Work force shortage – revisited
WBS-"That the World May Know"
Small Business
Social Media Scams
Team Building
Tech supporting Humans
5. The Built Environment (8%)
Daycare, shelter & transportation
Future Homes for our Amazing Kids
Shaping the City and City Wide Plan
The Granville Connector
Vancouver
Vancouver as a new home
Vancouver eco transportation & mobility
Wastewater treatment, and contaminants
History and future of heron point
Co-housing Conversations
Fresh Ideas for Salmo
New cities

Sustainability in our building
The future of Steveston
Preserve legacy world heritage sites
6. Climate Action & Climate Emergency (7%)
Business for Climate Action
Climate Action x 3
Climate change action
climate emergency
Connecting to nature for climate action
Our world & global warming
Steps to going green
Sustainable food systems
tackling environmental issues
UN sustainable development G=goals
What does zero waste mean to you?
What the world needs now is…
Your actions on Environmental impact
7. Arts, Culture, & Creativity (7%)
A

creative conspiracy
A guide to making better creative work
Community arts & culture in the Koots
Connecting with local creatives
Democracy
Democracy and belonging
Culture
empowering Vancouver musicians
how live theatre has changed our life
Music in us
Should barriers to artistic freedom exist ? What are the most common barriers ? Are they personal or social ?
Sustainability in the arts
The genocide of a culture
The Vancouver art scene
8. Social & Environmental Shifts (6%)
Dependency on plastics, preteen-teens
Providing a welcome to refugees
Blacks and Canadian policies
Creative actions for social change
Environmental stewardship
Let's talk food waste!
Nanaimo's low carbon future
Rainbow Refugee
REAL reconciliation
Reconciliation
Revitalizing the non-profit identity
Second-hand clothes
The journey of reconciliation
Women in leadership
9. Food Security & Nourishment (5%)
A balanced breakfast
Affordable health nutrition
Breakfast with your neighbours
Breakfast, lunch or appetizers
Development and sale of local food
Envisioning school gardens
Food security in the Jewish Community
Food Sustainability
The Just Food Foundation
Revelling in the fruits of our labour
10. The Voice of Youth (4%)
Millennials in mining
Junior youth spiritual empowerment
Working with the millennial generation
Youth anxiety
Youth engagement
Youth from care
Youth in food systems for the future
Youth in the Parksville area
11. Just for Fun (3%)
Barbers who sneeze on you
Girls just wanna have fun
HELLO game
Ice cream
Karaoke
Pet peeves
Pets
Poking fun at yourself
Super Heroes
What comes after Z?
Your favourite books