Together We Are Better
In 2017, Vancouver Foundation released research that revealed that people are feeling disconnected from community life and that many of their relationships struggled to get beyond small talk. Solving social isolation is complicated and developing meaningful friendships does take time. It takes a little courage to reach out, but one thing's for sure; everyone appreciates an invite!
We're here to help you have a more purposeful gathering — one where everyone leaves feeling uplifted with a deeper sense of belonging — and that might even help grow your ideas into action.

The format is a simple idea, but a profound one. Each host will talk about the issues and ideas they are drawn to or are curious to learn more about. The topics people discuss will be collected and shared—giving us an exciting snapshot of what's on people's minds throughout BC right now. It's a fun, meaningful opportunity for people everywhere to meet, gather, and share, in turn fostering healthy and connected communities across the province.
The role of a host is an important one in our society, one that a lot of us have lost touch with as lives get busier. When you welcome someone to your space, when your arms are open in this way, it's a public service that we all benefit from. Yes, there are natural hosts, but all of us can do it.

Hilary Henegar, Duncan BC
Our Partnership Program
Since 1999, Vancouver Foundation has championed a way for people to effect change in their community through small grants available to individuals. The ripple effect of these grants — supporting all types of projects from book exchanges and community benches to virtual karaoke and a service to fix computers for those in need — tells us that the best people to create welcoming, inclusive and connected communities are the ones within them.
Purposeful conversations, like those fostered through On the Table, often result in inspiring ideas. Neighbourhood Small Grants is a supportive grass-roots granting program to help go a step further and bring those ideas to life!
Visit NeighbourhoodSmallGrants.ca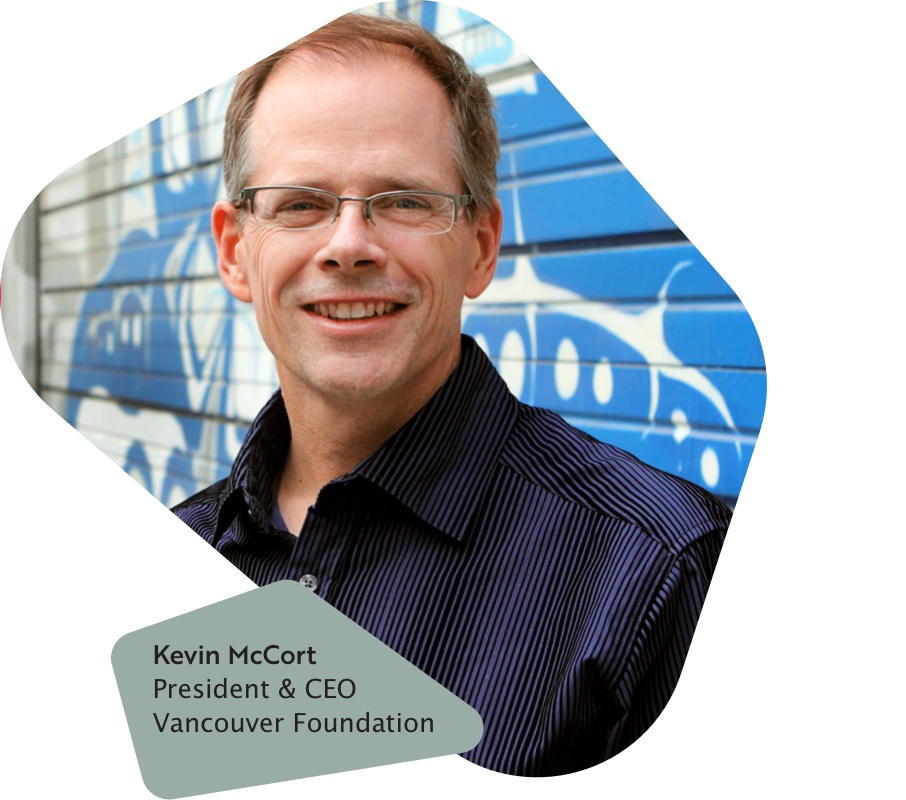 Through On the Table, we've created a catalyst and platform for people across the province to connect within their own communities.

Kevin McCort

Community Inspired
Since 1943, Vancouver Foundation has been community inspired—connecting the generosity of donors with the energy, ideas, and time of people in communities across BC.
2018 marked our 75th anniversary, and we wanted our celebration to be about something bigger than us. That's why we launched On the Table, an initiative powered by Vancouver Foundation and created by the community.  It was such a powerful opportunity for people to have a reason to come together, face to face, that we decided to continue the initiative to encourage a movement of connection across the province.
It's a natural project for us to be part of. Vancouver Foundation works to build healthy, vibrant, livable communities across BC—and helping people make social connections is a big part of that.
On the Table for Organizations
Many events have taken place within organizations and workplace environments. For some, this provided a unique opportunity to bond and share thoughts with colleagues around personal topics otherwise not discussed in a professional setting, while for others, it offered a branded vessel to convene a more diverse audience, giving stakeholders an opportunity to prioritize what is important and look for solutions.
4sprouts
Abundant Vancouver
ADAPS Services for Youth and Families
Adler University
Age Knowble
Amica Mature Lifestyles
Applied Bio-nomics Ltd.
Artee Screen Print
ASPECT BC
Atangard Community Project
Aunt Leah's Place
AVC Management Inc.
Burnaby Association for Community Inclusion
Ballet BC
Bamfield Marine Sciences Centre
BC Alliance for Arts + Culture
BC Association of Family Resource Programs
BC Council for Families
BCICF
BeatRoute Magazine
Beckman's Fine Foods
Bentall Kennedy Group
Bliss Cremation and Green Burial Services
Bloom Communications
Breakthrough Energy Alliance
British Columbia Aboriginal Network on Disability Society
Bubble Tea Vancouver
Burnaby Community Services
Burnaby Family Place Society
Burnaby Public Library Cameron Branch
Canadian Centre for Policy Alternatives-BC
Canadian Evaluation Society – BC Chapter
Canadian Hard of Hearing Association
Canadian Red Cross
Canuck Place Children's Hospice
Careteam Technologies
Cascadia Rail
Catfish Shorts
Cause+Affect
CBT
Cedar Cottage Neighbourhood House
CedarWonder
Cerebral Palsy Association of BC & HART Project
Chambar Restaurant
Changemakers Vancouver / BIPOC Institute
Check Your Head – The Global Youth Education Network
Chelsea Crafters Guild
Cicely Blain Consulting
City Centre Community Association
City Of Maple Ridge
City Opera Vancouver
CityHive
Clark Wilson LLP
Clayoquot Biosphere Trust
Collingwood Neighbourhood House
Columbia Basin Alliance for Literacy
Columbia Performing Arts Society
Community Connections (Revelstoke) Society
Community Cooking
Community Development Institute at UNBC
Community Foundation of the Kootenay Rockies
Community Foundation of the North Okanagan
Community Foundation South Okanagan Similkameen
Community Legacy
Community Living British Columbia
Company of Disciples
Cowichan Intercultural Society
Creative BC
Creative Community Life Foundation
Creative Pulse
Crossroads Community Meal
Culture Chats BC Association
Cumberland Place Community
DCN Consulting
DDA
Denman Conservancy Association
Design Build Research
Developmental Disabilities Association
Diana
Diversity CLUES Consulting
Dog Park Garden
Downtown PoCo BIA
Dr. Peter AIDS Foundation
Drawing Thanks
DTES Small Arts Grants Program
Dunbar Village Community Services Society
Easy Italian Food Cooking
Edward Milne Community School, SD#62
Elkford Community Fund
Elysian Projects
EMBERS Eastside Works
Empower.Mom
Environmental Law Centre
Excel Student Solutions
Executive Director
Face of Today Foundation
Fairware Promotional Products
Family Services of Greater Vancouver
Farrington Cove Strata
Fernie Chautauqua
First Call: BC Child and Youth Advocacy Coalition
Four Worlds International Institute
Franklin Community Gospel Church
Fraser Health
Fraser Region Aboriginal Friendship Centre Association
Fresh Roots
Friends of the Grove/ Cedar Bark Poets
Frontier Law
Gather Together
Georgia Strait Alliance
Girl Guides of Canada – BC Council
Gold River Secondary School
Gordon Neighbourhood House
Great Lakes Networking Society of BC
Greenways Land Trust
Grist Mill and Gardens Historic Site
Growing Chefs!
Gwa'sala-'Nakwaxda'Xw School, Division 4
H.E.R.S. Victoria Foundation
HAO
Happy City
HCMA
Helene Rasmussen
Hereg
Heritage Abbotsford
Hive & House
Hogan's Alley Society
Hoovie
HopeFirst
hua foundation
Hunny-Do Ranch
Hypha
Independent Living Vernon Society
indigenEYEZ
InWithForward Canada Inc.
Island Mountain Arts
Italian Cultural Centre
Japanese Community Volunteers Association
Jariya Jaroensuk
Jewish Community Centre of Greater Vancouver
JNJ Business Strategies Inc.
Just Food Foundation
Kamloops Society for Community Inclusion
Kasela Palu Group
KCR Community Resources Society
Keeferstreet
Kelowna Art Gallery Association
Kenyan Community in British Columbia Society (KenBC)
Kinghaven Peardonville House Society
Kits neighborhood house
Kiwassa Neighbourhood House
Kootenay Dirt Riders Association
Kootenay Society for LifeLong Learning
Kudoz
Langley Environmental Partners Society
Langley Meadows Community Association
Langley Poverty Reduction Committee
Langley School District Foundation
Law Needs Feminism Because -TRU Chapter
Little Mountain Neighbourhood House
Lori Faulkner
Lower Similkameen Community Services Society
Lynnmour Community Engagment Committee
Magnetic North Theatre Festival
Maple Ridge Community Foundation
Marpole Neighbourhood House
Mary Cridge Manor
Matchstick Coffee Inc
Matchstick Marijuana
McCreary Centre Society
Migrante BC
Montrose Development Ltd
Mothers Matter Centre
Mount Pleasant Neighbourhood House
Mount Waddington Community Food Initiative
Mountain Hub
Murray Paterson Marketing Group
Museum of Vancouver
Nada Grocery
Nanaimo Foodshare
Naviond
NDP
Nestworks Workplace Society
New Westminster Family Place
NONA Child Development Centre
North Thompson communities Foundation
North Vancouver City Library
Nusa Coffee
Oaklands Community Association
Oakridge Senior Society
Obabika
Okanagan Child and Youth Services Ltd.
Okanagan Indian Band
Oliver LINCOLN Classroom
One Straw Society
Options Community Services Society
Or Shalom Synagogue
Out-Smarts
OUTspoken
Pacific Restaurant Supply
Parksville Qualicum Community Foundation
Pathways Serious Mental Illness Society
Patients in Education
PayByPhone
Peachland Wellness Centre
Persephone Brewing Company
PH&N Investment Management
Phillips, Hager & North Investment Management
Phoenix Foundation of the Boundary Communities
Pinoy Pride Vancouver
Populous Map
Port Moody Foundation
Port Moody Heritage Society
Port Moody Station Museum
Pride in Art Society
Privare
PRØHBTD Media
Promerita
Promise Vancouver
Public Disco
Quest University Canada
RayCam Renew
RBC DS Wealth Management
REALM
Reconciliation Canada
Renfrew Collingwood Seniors Society
Representative for Children and Youth, B.C.
Resilience Planning
Rhodes Wellness College
Rick Hansen Foundation
Riley Park Community Garden
Rize
Rural Resilience
Salmo Public Library Association
Save On Meats
SCSV
Seabird Island Band
Seeds of Change
Seeds of Change Surrey
Seniors Hub Council
SFU Centre for Comparative Muslim Studies
SFU Gender, Sexuality and Women's Studies
SFU Gerontology
SFU Morris J. Wosk Centre for Dialogue
SFU Public Square
Shuswap PRIDE
Simon Fraser University URB 696 class
Sir Charles Tupper Secondary
Skeena Diversity Society
Skyrocket
Sources Community Resource Society
South Okanagan Immigrant and Community Services
South Vancouver Neighbourhood House
Special Olympics BC
Squamish Climate Action Network
St. Peter's Fireside Church
Steveston 20/20
Steveston Hub
Stolo Aboriginal Skills and Employment Training- SASET Culinary Arts
Stroke Recovery Association of BC
SUCCESS Language Services
Summerland Community Arts Council
Surrey Local Immigration Partnership
Suzuki Elders
SVI Potluck
T.I.N.G.A. Tupper Integrated Neighbourhood Greenway Association
Talk Shop
Team Autism Canada
Terrace Women's Resource Centre Society
The Canadian Hard of Hearing Association – BC Chapter
The Coastal Village Cohousing
The Common
The Cridge Centre for the Family
The Green Moustache Organic Café
The Kootenay Bakery Cafe Cooperative
The Marrakesh
The Mountain Village
The Red Box
The Salvation Army Vancouver Harbour Light
The Salvation Army Willows Church
The University Women's Club of Vancouver
The Victoria Foundation
The Washington Group
Tides Canada
Town of Oliver
Transition Nanaimo
Travel for All, Inc.
Tumbler Ridge Public Library
UBC
UBC Geering Up Engineering Outreach
UBC-CeMCOR (Centre for Menstrual Cycle and Ovulation Research)
ubuntu canteen
UCV Fireside Chats
Unitarian Church of Vancouver
United Way of the Lower Mainland
University of British Columbia
Urban Arts Architecture
Urban design
UrbanPromise Vancouver
Vancity
Vancity HUB
Vancouver Arts Colloquium Society
Vancouver City Planning Commission
Vancouver Coastal Health-Richmond
Vancouver Community College
Vancouver Courier
Vancouver Design Foundation
Vancouver Foundation
Vancouver Fringe Theatre Society
Vancouver Island University
Vancouver Opera
Vancouver Planning Commission and Kokoro Dance Society
Vancouver Special
Vancouver Symphony Orchestra
VCH
VCPC
VIA
VIFW
Village of Salmo
W11 Birch to Hemlock neighbourhood
Watershed Watch Salmon Society
Waterstone Pier
West End Seniors' Network
West Kootenay Regional Arts Council
Wild Goat Executive Coaching
Wilps Yal
Wit Works Ltd
Working Together
Worldmeetsant
Woven Women
Yellow Bowl Comfort Club
YMCA of Greater Vancouver
Youth 20/20 Can
YWCA Metro Vancouver
ZLC Financial