On the Table BC – 2018
In our first year of On the Table, we were grateful to see thousands of people connecting with one another across the province in self-hosted events tailored to each host's community and interests.
We asked that there be some sort of food served. It could be anything from a simple snack to a three-course meal — that was completely up to the host. Finally, and most importantly, we asked hosts across BC, "What's on your mind?" This simple, open question was a spark that ignited hundreds of conversations in every corner of the province. Through this platform of gathering, sharing food, and just talking, something special happened.
We're excited to share our learnings and insights with you here.
Community Reflections & Insights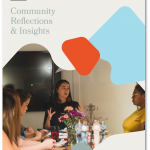 With hundreds of events across BC, there's a lot to unpack from our first year.
Explore the Conversations
1. Inclusion & Belonging
A City for All x 2
Belonging
Belonging & Inclusion
Children and Families
Chinese Community
Connecting with Youth Refugees
Creating Community
Equity
Female Friendships x2
Get to Know Each Other
Inclusive Communities
Indigenizing My Queer
Issues Impacting Seniors
Meeting Your Neighbours
Newcomer Troubles
Newcomers Seniors' Needs
Open, but Bipoc Related
Reconciliation x 3
Reconciliation: all of us
Sharing Japanese Culture
Social Isolation
The Refugee Indiana
Thriving with Diversity
Women and Community
Women in Law
Women in Philanthropy
2. Social & Environmental Shifts
#Metoo
10 Years Into the Future
B.C Societies Act
Barriers to Employment
Cannabis Legalization
Change in Our Community
Change in the City
City-Shaping & Youth
Collaborations at Work
Cross-sector Collaboration
Emerging Evaluators
How to Improve Life for Humans, Nature, Society, Animals ..et al.
Leadership
Reducing Waste
Reimagining Aging
Retirement Savings
Shaping our Future
Survival of Bees
The Caring Economy
3. Community Engagement
Bolstering Communities
Building Community x 6
CFNO Vitals Signs Issues
Community and Charity
Community Assets
Community Creativity
Community Engagement x 3
Community Resources
Co-op Community
Diversity and Community
Happy Neighbourhoods
Improve Community
LM/RP Neighbourhood
Nature and Community
Neighbours on Purpose
This Neighbourhood Life
4. Wellbeing & Vitality
Busy People Connecting
Friendship
Growing a Healthy Culture
Health & People
Health of Our Athletes
Hearing Loss
Joy
Living in Balance
Public Health
Seniors' Needs
Spark(l)ing Connections
The Joys of Giving Back
What Matters to Seniors
5. Learning & Storytelling
Children's Novels
Community Journalism
Death and Dying
Family Traditions
Giving Back
High School Education
Honouring Legacy
Issues that Matter
Polarizing Viewpoints
Public vs Private School
Storytelling
The Goodie Magazine
Why Newspapers Matter
6. Arts, Culture & Creativity
Arts & Culture in the DTES
Community Arts and Culture
Community Creativity
Does it Belong in the Museum
Fringe Theatre
Future of Arts in Victoria
Indigenous Fashion x2
Interactive Art
Local Music
Local Music + Community
Mental Health & Art
Movie-"Bombí_n: el perro"
7. Civic Participation
Indi Commercial Catalysts
Is Democracy in Trouble?
Kids in Care-What's Working?
Local Governance
Municipal Election
Proportional Representation
Reflection Cafe
Summerland Dreams
The Vancouver on Your Mind
This Year at Kitchener
What Affects you in YVR
WHY-VR?
8. Food Security & Nourishment
Cooking Lesson for Teens
Food Skills for all Ages
Food Systems on the Coast
Harvesting & Wildcrafting
Healthy Food for All
Let's Talk Food
Local Food Systems
Local Foods
Nourish
Nourishment
Plates of Possibility
Sustainable Food & Farming
9.The Built Environment
Accessible Travel
Affordable Housing x 2
Cascadia High Speed Rail
Designing for Disabilities
Family-Friendly Workspaces
Sustainable Transportation